Without Sorrow there is No Joy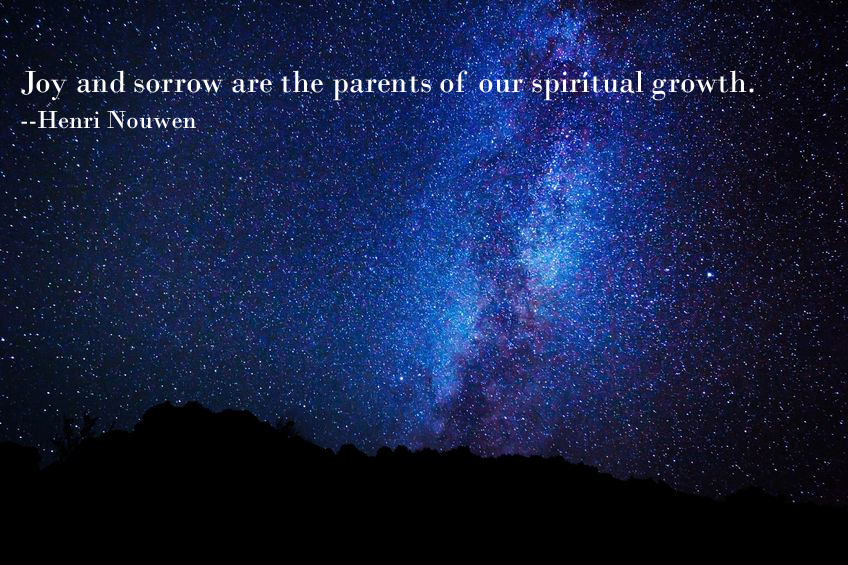 "Joy and sorrow are never separated. When our hearts rejoice at a spectacular view, we may miss our friends who cannot see it, and when we are overwhelmed with grief, we may discover what true friendship is all about. Joy is hidden in sorrow and sorrow in joy. If we try to avoid sorrow at all costs, we may never taste joy, and if we are suspicious of ecstasy, agony can never reach us either. Joy and sorrow are the parents of our spiritual growth."          –Henri Nouwen
My friend came home from work for a lunch break and noticed her son was still in bed. It was only the day before that she spoke with him about getting up and active and doing what needs to be done for his classes. He had slept the entire day on Saturday. This young man suffers with the toxic cocktail of anxiety and depression. It presses him down and locks him in. It makes him immovable and makes her want to pull her hair out while she cries with compassion. The most difficult thing is getting up out of bed when a 200 pound weight is strapped to your shoulders. The easiest thing to do is keep the light off and pretend time doesn't exist.
Everything in us scurries to the corners of the room, darting for a safe place to hide from the pain. For most of us, our full time job is to pound pain down into a manageable size and to feed our pleasures with miracle grow. Run, shop, talk, drink, scroll blankly through any possible distraction on the phone, keep noise on a constant spin and set up a minute by minute, jam-packed schedule dictating 100 priorities for our families. By all means, don't stop to FEEL anything! Maybe the flutter of anxiety or the pang of suppressed guilt will exit our brains flipping and floundering behind us until they slowly choke and die. Or maybe, in truth, they will fester and fume in the small space below the heart, growing in power and size.
The primary goal for most Americans, whether we detect it or not, is to be happy. We have no idea how to arrive there, but like marching ants in a crammed line we follow the masses assuming this is a worthy goal for ourselves and our children. However, we end up in a crisis any time something doesn't secure the happiness bubble we've blown up around ourselves. But maybe we have it all wrong. Maybe the obsession with filling up every ounce of empty space inside our souls with sweets is not such a great idea after all. The insightful priest/author Henri Nouwen speckled most of his writings with this theme: joy and sorrow must co-exist. One day, when we set up camp on the New Earth it will be different, but for now, sorrow shapes our joy.
Two halves of the heart make a whole. When we numb pain, we numb joy. We flatline. Depression and apathy set in slowly as we begin to feel at home in the muted colors of life. If we learn to welcome this truth, we are able to live in hope. The darkness is not just dark, and pain is not just pain. There is more, and time will do its good work. Jesus gave us a picture of this as Paul reminds us that "for the joy set before Him He endured the cross, scorning its shame." This suffering would actually produce joy. How else would He endure the ripping apart of His flesh, the rejection of His best friends, and the silence from His own Father? Sometimes depression lingers for years and can wrap itself around us like a straightjacket. But maybe, like Vincent Van Gogh, there is something mesmerizing and even alluring in a night sky filled with stars. Maybe the blackness of the night is necessary for the glory of the stars. When I sit with people who have suffered, who have been whipped by depression, I find myself in awe. There is a level of depth, empathy and humanness that is captivating. The most beautiful music and the richest writing in history come from the souls of those who have felt dragged about by life. The shooting pain that strikes the chest is often too much to bear, and yet maybe the flatlined personality is worse off.
We are eternal beings. When Jesus returns, we will be recognizable to ourselves. Who I am, and how I have been colored by the hardships of life here will be who I am there. My present darkness will make the light of heaven even more bright. My sorrow will make joy and laughter even more full. My cold and lonely nights will make the warmth of the Father's love even more comforting. The two are fundamentally linked on this side of heaven. The bondage here will lead me into a greater reality of freedom than I have ever known. And one day our hearts will know no more pain and suffering and we will arrive there only because we have been caught in the barbed wire for a few short years.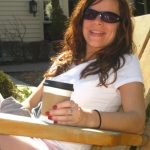 Dawn graduated from Messiah College with a degree in English and went on to get her master's degree in Christian Counseling at Gordon-Conwell Theological Seminary. She presently works as a counselor and teacher in the high school at Covenant Day School in Matthews, NC and in her spare time likes to read, write and teach Bible studies. For the last 15 years her passion has been to mentor young women in life and Scripture. Dawn's blog may be seen here: www.dawnfromphilly.blogspot.com.