"But when the day was breaking, Jesus stood on the beach; yet the disciples did not know it was Jesus.  So Jesus said to them 'Children, you do not have any fish do you?' They answered Him 'No.' And He said to them, 'Cast the net on the right side of the boat and you will find a catch.'  So they cast, and they were not able to haul it in because of the great number of fish."          John 21:4-6
A group of exhausted men, out of answers and out of food, stand in a small fishing boat in the Sea of Galilee, days after a devastating loss. Jesus' crucifixion confuses them, and they're really just trying to put one foot in front of the other and provide for their families.  The Savior arrives into their fog. He has come, again, to lead their bewildered hearts.  He asks after them in affection, and it is clear He has come to give them something.  They struggle, while He is sovereign over their boat, the sea, the fish, their livelihood.  He delights to give them more than enough.
Why is it that recognizing our "enough" is so difficult? Practicing gratitude begins with an arduous, awkward turning of the ship.  Our minds and spirits are so trained on what we deserve, on urgency, on noticing where we don't feel we have enough.  Our hearts are so hunkered down; we steel against the cold winds of the current disappointment or future possibilities. We walk with our head down, arms pulled tight around us to shield and keep out.  We lose so much when we live hunkered.  By design, the thing the most defines us is that we have to receive. And we lose something so core when we lose this truth.  We don't breathe on our own; our hearts don't beat on their own.
We receive everything. Children seem to be fine with this. They don't even attempt to hide their self-centeredness when they feel they need something from us.  In their youngest years they come believing we will respond; they emotionally rest in that reality. Jesus calls His friends "children" in John 21 to kindly remind them that's who they really are, and then He shows them that He brings more than enough.
Here is what I want to believe: what I have is enough. Most of the time, in any given moment, I am okay. It's when I string moments together – moments of past hurt that seem to point to a pattern of injustice, moments of potential future pain that threaten – that I come undone.  But this moment right here, I am held together. I don't have to borrow from past or future; what I have is enough.  May God give us eyes to see Him through the current fog in our lives, and may we hear Him call us "children." May we believe He gives bread and not stones.  May we lean on Him, expectant of provision.  May we gather in the small things that do not feel like enough to soothe the wound until we are able to see He has given us a full net.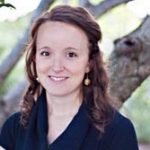 Meredith joined The Barnabas Center staff in January 2009, upon completing her Masters in Counseling from Gordon-Conwell Theological Seminary and her Bachelors in Religion and Psychology from Furman University.  She counsels, leads women's groups and teaches a seminar called "Hope in the Darkness" for those walking with individuals suffering from depression or bipolar disorder. Meredith, her husband Jon, and daughter Charlotte live in Fort Mill, SC.