She's three. Yet her words cut to my heart.
Our evening walk had carried on with our 3 year olds as normal. Walk, run, stop, pick up bugs and such. Smiles were not sparse.
For my daughter, she was collecting clover flowers. She would fill her hands and pass them to me. Half-way through our walk, my full hands slowly started to drop her findings and leaving them behind. When she seemed to have lost interest, I let everything go.
As we headed inside, her eyes peeled up and she asked, "Mom, where are my fowers?" (The "L" is still not in flowers.)
"I'm sorry sweetie, I didn't think you wanted them."
Then the tears and worry came. "But mom, those were for God so He will love me."
And there it was. The big lie her little heart believed. And the one I fall into so many times.
My heart wrenched, it was the lie I hoped she would not believe. The one Danny and I try to counter by telling our kids as often as they let us, what truth is.
But I have to admit, I admire her freedom to admit her beliefs. Many Christians, me included, preach the Gospel and the unconditional love of Christ. But our actions and inner thoughts deny that daily.
For me, this admission from my little girl came at the right time. By God's grace I had seen my desire and need to prove myself through my achievements in order to earn favor with my coworkers, neighbors, friends and most of all God. My heart, mind and body felt worn. The truth of the Gospel was not soothing me in the way it once did. Instead, anxiety and fear had immobilized me.
Through the gentle words of my pastor he pointed out – even these righteous deeds are worthless. Even the good things and the ways I try to prove myself are leading me to a false belief. The lie, my little girl believed, is that we need to earn God's affection and favor.
The need to repent of my good deeds became evident. If Jesus really does love me unconditionally and He really did pay the price for my sin, I don't need walk in fear of what others think of me. In fact, I can continue to do good things, not out of fear, but because I am already loved. Fear only can be a motivator for so long. It will suck the life out of you. But love, perfect love, is what changes hearts and lives.
But honestly, I know I will forget and need God to continue to remind me. Just like my little girl.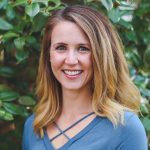 Brittany received her BS in Apparel Merchandising with a Minor in Business from East Carolina University. She previously worked at Barnabas on the Development Team and now works part-time for Hope Community Church in Events.  Brittany has been married to Daniel for a number of years.  And when she is not enjoying time with her family, she likes writing about her home renovations and life with twins on her Facebook page The Stiling Haven.