Extremes Have Always Done Us In
Extremes have always done us in.  Too much or too little creates problems for our marriage.
Three weeks ago our middle daughter moved home for a month – transitioning from life in California to grad school.  She has been great!  She has helped cook, worked on her health insurance, acquired a bed, visited with friends, and gone to church with us. We took a family vacation, with five of us (all adults) at the beach in two bedrooms. Lots of waves, sun, going out, grilling in, and togetherness.  It has been wonderful.
But for the two prior years we have been empty nesters. In this new situation, we have been learning to keep an "us" in the midst of it all.  During our daughter's visit we both focused on our daughter – and loved it.  But that leaves less for one another.  How do we handle that?
This morning as I left for work, I said to Lynne, "A week from today and it will slow down (as our daughter starts grad school).  We will have time for each other."  She said, "And then it will be empty."  Extremes.
Next week we will be relieved and sad and probably a bit empty.  And we will have to figure out what love looks like then and there.
The extremes of life stress love.  We don't have as much for one another in some seasons.  How do we negotiate the lack of energy and time with each other?  Can we have different expectations and work our way through it?  Can we talk about it?  Can we give grace?  Those conversations aren't easy, but if we don't have them we are in trouble.
We all have seasons when one or both spouses have too much to do.  It could be work, the kids, friends, family or projects that we have taken on.  What do we do with the too much?  But the other extreme can be just as difficult.  There are seasons of emptiness.  Friends don't call.  There isn't anything fun on the horizon.  We don't have much to talk about. The lack of common interests rears its ugly head. Extremes.
When I feel empty, my tendency is to want to blame someone.  And there is always a reason to believe that someone has failed to love me the way I think they should.  Isn't it Lynne's job to take away my emptiness? To fill me?
Lynne and I recently spent an extended amount of time alone together.  We didn't talk about it beforehand but both wondered how we would navigate that time.  She likes yoga.  I like golf.  We both like to walk and read.  And we both like people.  But there weren't any of those, for weeks… and that made for some empty times.  Extremes.
Can we talk about the emptiness without blaming?  Can I hear her without being threatened?  If one of us feels lonely is it necessarily the other's fault?  It's easy to say "no" to that question but harder to live it.
Often I find myself wanting life to get either "fuller" or "slower" so that loving will be easier. But life just doesn't cooperate.  Somehow, in the midst of too much or too little, when one or both of us feels empty or overwhelmed, God wants to give us the strength to tiptoe into that conversation with the goal of love.  I want to understand Lynne.  I want to have the courage to be honest about me.  And I want to name the reality that life feels off-balance and that it is no one's fault.  It just is.  It is stressful.  And I want to be "for" you and "with" you and want that from you, too.
As we navigated our way through these recent extremes, I discovered that facing and talking our way through extremes brought us closer.  And that is different!

If this topic has piqued your interest we're offering a marriage seminar in September called "Love and War" that you may be interested in.  Simply click here to find out more.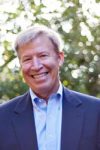 Palmer Trice is an ordained Presbyterian minister.  He is married to Lynne, has three children and has been in Charlotte since 1979. In his spare time, Palmer enjoys golf, tennis, walking and reading.