Gratitude Requires Vulnerability
A blog article on gratitude – why?  Why write about that?  Why think about that?  Really.
You see, I've never been a very grateful person.  Occasionally, I have wished that I was.  But most of the time, I haven't focused on it.
Now I try to say "thank you", when that is appropriate or expected.  I believe in being polite.  But grateful seems more profound, deeper than being polite.  I suspect that it is some kind of attitude of the heart.
I prefer to be a more forward thinking person.  I like to plan the future and envision the things that can be.  I want to take the next hill, teach the next study, move the ball forward.  Years ago, my wife Lynne told me that I "hid" in the future.  She said impact was easier to envision than to experience.  Hmmm.
Gratitude, it seems, requires a certain sense of presence in the moment.   I think I want to live in the future.  Somehow what could be seems less vulnerable than what is right now.
Recently, when we shared communion at church, I was invited to "remember" the Lord's death until He comes.  We partook of the bread and wine and remembered… with gratitude, I might note.  That is unusual for me.  To ponder, even for a few minutes, the wonder of the Cross and the Resurrection requires me to stop.  There was something very grounding in that moment.
Stopping like that wasn't unusual in the Old Testament.  They would build "Ebenezers" to remember the places where God had showed up in a remarkable way.  Remembering produced gratitude as well as promoted faithfulness.
Charles Spurgeon kept a prayer diary that marked every time God had answered his prayers – and it was a long diary!  He remembered.
Gratitude requires a sense of vulnerability.  If I acknowledge in any meaningful way what you have done for me, I have let you in.  I have revealed a "need."  In some strange way, I feel exposed.
If I acknowledge that your words or actions meant something to me, then it will hurt more next time if you don't say or do them.  I am giving you power in my life to hurt me.
But on a larger scale, gratitude sets me up for a larger sense of disappointment.  If I savor the good things in life, then somehow I might be blindsided by their withdrawal.  If I live more gratefully, then I risk being more hopeful, and I am less in control.  (I am figuring this out as I write.) But on the other hand, I miss much of life because I don't savor its blessings.  I miss the beauty of the crisp fall day.  I miss Lynne's smile in the morning when I bring her coffee.  I miss the sense of affectionate connection with my kids when we talk on the phone.  I miss the playful interaction with my friends and co-workers.  I just miss the enjoyment that comes from revisiting the gifts God has given me.
I get to enjoy things twice… maybe much more often.  I am looking at a picture of my kids as I write, and I just felt that warm glow of gratitude.  They aren't even in the city, and aren't even on the phone, but I get to enjoy them in the moment.
Maybe there is something to this gratitude thing.  Maybe there is good reason for the Lord to invite me to "remember."  Maybe I would see Him and His goodness more clearly if I were more thankful.  Maybe gratitude isn't just for the one being thanked, but for the one doing the thanking.  Maybe…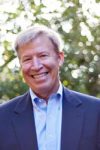 Palmer Trice is an ordained Presbyterian minister.  He is married to Lynne, has three children and has been in Charlotte since 1979. In his spare time, Palmer enjoys golf, tennis, walking and reading.