During August and September we've invited several people to give you a look back
at the history of The Barnabas Center.  We hope these stories will be encouraging
and that you'll resonate with the needs and hopes that are being shared.
In mid-September we'll be back online with our usual thematic blog posts.
__________________________________________________________
When I first began my role as a young pastor – there was no Barnabas Center. This is hard to imagine now, because today the ministry of Barnabas is so much a part of the fabric of the city. I remember thinking then that we need a place to send folks where caring people would come along side and offer good godly support. It was into this void that Palmer stepped and Barnabas became a reality.
"I remember when …"
Barnabas was a dream in the mind of Palmer Trice
Palmer was a whole lot younger – Oh wait, so was I
Barnabas Board meetings felt a whole lot like friends catching up on life
The offices were on Park Road
What I also remember is that the mission the Barnabas Center was committed to when it began. I know that the same mission guides it today. I know that the men and women who show up everyday to listen and speak into the lives of hurting people are still caring and Christ-centered.
I also know that we in the City of Charlotte are better off having the Barnabas Center here. I have a profound respect for the ministry as it has grown and expanded beyond counseling to teach and to train people to come along side hurting men and women and point them to the hope we find in Jesus.
Thanks Palmer and congratulations!
We are hosting a 25th birthday celebration this September, and we'd love to have you
join us!  It will be an evening of stories and sharing as we look back at where
Barnabas has been and look ahead to where we're going.
Friday, September 12, 2014 from 7:30pm – 9:30pm
Westminster Presbyterian Church
Refreshments and dessert will be served.
For more information and to register please visit:
https://barnabasbirthday.eventbrite.com
.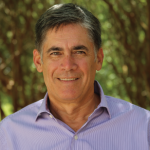 Jimmy Kallam joined the staff of Church at Charlotte in 1976. He has been Senior Pastor since February, 1982, and is the primary teacher and visionary for the ministry. Jim is a graduate of Northeastern Bible College, and is ordained by the EFCA. His first book, Risking Church, is foundational in Church at Charlotte's mission to see its members be stirred by the Scriptures, struggle well with life and serve others.  Jim and his wife, Suzi, have three grown daughters and seven grandchildren.