One of my most terrifying encounters with the natural world was a snowshoeing trek in Colorado. I went alone into an avalanche warning area and hiked to 12,000 feet having told no one my plans to hike. At the trailhead there were fresh snowshoe tracks and I soon met two women and their dogs on their way down, and spoke with them for a moment before continuing the ascent.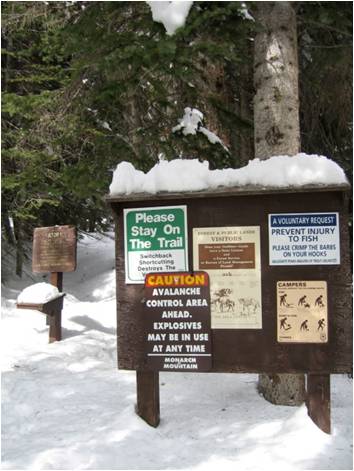 The women's tracks stopped well before the summit. I walked past another avalanche warning sign and realized I had neither heavy snow gear nor knowledge of how to survive in avalanche conditions. Waiting for me at the top of this trail was a frozen lake and view of the Continental Divide. I felt I had come too far to turn around. Desire numbed a right fear and I kept walking.
The wind became fierce at 30 mph sustained and 50-60 mph gusts. I kept walking without any trail. I came above the tree line and could see the summit. There was no path to get there, only a steep, long hillside covered in snow.
I made it about 20 feet up the hillside. The wind blew so hard I literally could not take a step forward. The snow was very deep but felt very unsteady under my feet. The top layer was crunchy with ice and I knew a sheet could easily break off, sending a cascade of underlying powder (and me) down the mountain. I stood there for a moment encapsulated by a right fear. I was in real danger and I could not go any further. But I still beheld a tremendously gorgeous sight. I have yet to experience another moment of utter beauty and complete terror so inextricably bound.
"Click," said the camera…. then I hauled my rear end down the mountain.
When I was a child I used to feed our horses twice daily. In the early darkness of winter, I imagined someone was hiding in the barn waiting to attack me. This may or may not have been caused by my siblings and I watching too many episodes of Unsolved Mysteries, something we enjoyed debating while gathering for Thanksgiving last week. Regardless of cause, I fed the horses and ran as fast as I could from the barn to the house. I hated when we left the horses out because it meant I had to stop to chain the gate. When we left them in the barn, I could sprint right through the gate to safety. I knew I looked ridiculous and stopped to catch my breath in the garage before I went inside.
High tailing it down this Colorado mountain, taller and older than the scared little girl running from the barn, I'm struck that fear, no matter its cause, looks and feels remarkably the same whether you are eleven or twenty-seven.
Driving around New Mexico a few years post Colorado, my dear friend Julie and I adventured along the Rio Grande. We wound beside its banks for a few miles and came upon a very old wooden bridge. I hit the breaks and pulled the car off the shoulder. The bridge was condemned, sagging and plastered with warning and no trespassing signs.
I saw a fox scampering across the length of the bridge. I tiptoed out a little ways on the creaking wood, compensating in weathered beauty what it lacked in engineered stability.  I walked back to the edge. I remembered a saying about doing something each day that terrifies you and decided it was a good day to follow that advice.
The wood creaked and the river roared underneath my feet.
beauty and brokenness.
peace and fear.
infinite and finite.
Jimmy Santiago Baca writes of nature's healing beauty and uncontrollable power.  Much like God, nature soothes but also frightens. When we recognize fear and open ourselves to it, we are sometimes called to yield, to let go, to return safely home. And sometimes to summon the courage to continue onward.
Baca's poem "This Day" came to mind as I thought about my walk across the river:
To open my life
and make this day a bough on a tree
leaning over infinity, where eternity flows forward
and with day the river runs
carrying all that falls in it.
beauty and brokenness.
peace and fear.
infinite and finite.
All of these were present on my walk up the mountain and across the river and hours of our daily lives, in all of our longings and movements toward beauty, love and faithfulness. I imagine these all were present at the manger, as eternal love came down.
And thus, if the life we lead is eternal, my advent prayer for us is that
Love may come down afresh to us all,
Help us open our lives
to fears and hopes,
sorrows and joys,
mystery and known,
absences and embraces.
To lean into eternity
while walking here on Earth
as He did.
Jessica Dean is a lover of roots – that grow in the ground, that make a sweet old banjo dance, that tangle up into the stories, pictures and songs of people today and long ago. After college, she spent nine years in Charlotte, North Carolina working in banking and non-profit management. Currently, she is a graduate student at Middlebury College's Bread Loaf School of English, working towards a Masters in English. She recently moved to the green hills of Knoxville, Tennessee where she lives and works on a 55 acre farm and spends this season of life growing food, writing stories, playing music and hiking the Smokies with her dog. She is working on her first book, a collection of children's stories and songs, hopefully to be completed this winter.