Trying to Pin the Tail on the Donkey
The other day I read a startling description by an author who I love.  She described the experience of being a little kid at a birthday party, blindfolded, and spun around, attempting to walk toward the wall to pin the tail on a donkey.  She said that when she is in seasons of stress or pain, the donkey on the wall feels like Jesus, and she's trying to figure out where He is, stumbling toward Him, confused and disoriented.  This metaphor spoke to me, because I have lived it.  My guess is, you have too.
The truth is, during times when we most need grounding, gentleness, and rest, we are the most likely to give ourselves the opposite of these things.  We get frantic, untethered, and we swing between total avoidance of doing the hard thing and pushing ourselves like crazy.  It's as if our ability to think sanely and take care of ourselves is just unavailable to us.  And God seems so impossibly hard to find.
What things are most important to you? If you spoke these to someone, and then they watched how you lived your day, would your spoken priorities match the way you walk? Stress and pressure have this way of making everything seem urgent.  Too many things feel crucial, and picking just the next right thing to do is the only way out.  Maybe you have trouble moving forward slowly, getting your bearings in the current overwhelming season or just the requiring day.
For so many seasons, my answer to being overwhelmed was to drive forward; to just work harder.  My drive always has fear wrapped around it, directing and bullying me into too many tasks and commitments.  There's a wonderful 12 step saying: "Our thinking becomes distorted by trying to force solutions, and we become irritable and unreasonable without knowing it." That describes where I found myself after years of answering pain and pressure by pushing harder. I have longed for peace, and in order to get there, I often have to just accept the overwhelmed feeling, accept my disorientation, and know that God is a fixed target who is going to find me.
You are still safe, and you are still held even in stress.  Resist the urgency; it is not a voice that speaks truth.  You will find that you must face the reality of your limitations in order to keep your dignity.  You have limited energy, and you have limited insight. You will need to ask for help, and you may need help for a long season.  You can ask the Spirit to help you put first things first, and to think more realistically about your own small frame.  You can pray for the courage to move forward, taking small steps.  Leave everything else to Him.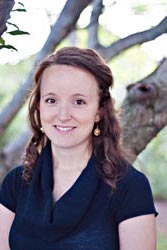 Meredith joined The Barnabas Center staff in January 2009, upon completing her Masters in Counseling from Gordon-Conwell Theological Seminary and her Bachelors in Religion and Psychology from Furman University.  She counsels, leads women's groups and teaches a seminar called "Hope in the Darkness" for those walking with individuals suffering from depression or bipolar disorder. Meredith, her husband Jon, and daughter Charlotte live in Fort Mill, SC.