Vision 2020 Kickoff: Did Abraham Look Back?
For the months of February through April we've invited several people to give you a peek into the new directions God has called The Barnabas Center.  We hope these directions will be encouraging and that you'll resonate with the needs and hopes that are being shared.  In May we'll be back online with our usual thematic blog posts.
__________________________________________________________________
Did Abraham look back?  I'm not asking about when he left Sodom… but when he left Ur and then Haran, when he left "home".  "Home" represented life as he knew it.  We don't know much about Haran.  But we can assume that it was life, his life, neighborhood, Harris-Teeter, BP station.  And he just up and left.
Genesis 12:1 tells us that God told him to "leave his country, his people and his father's household" – to leave life as he knew it.  And to go someplace God would show him.  No map.  No trip-tik.  No final destination to plug into his GPS.  What was it like to launch, to venture out on a new journey with an unclear, but God-ordained destination?  What kinds of questions did he have to ask, how many answers did he not have?  What did he imagine it would be like?
29 years ago, when I was a younger pup, Lynne and I left my job and career in order for her to  pursue her Masters degree in Counseling.  We had a two year old.  I thought I could support myself bagging groceries.  We had no idea how we/she would use the degree.  And we sure had no idea where God would take us (eventually to starting the Barnabas Center).  It was a "foolish", or divinely led idea.
Three years ago, we believe God led Barnabas to ask the question, "What do you want from us in 2020?"  We pulled many in our community together, hopeful and fearful of what they might want.  In some ways, we most feared that they and God wouldn't want anything.  But we were wrong,  they did want something. We believe He spoke through them.
For almost 25 years the Barnabas Center has been about offering the hope of the gospel of Jesus Christ to those facing the inevitable struggles of life.  How can God meet us and mold us when life gets hardest?
What we heard through 5 "focus groups" (gatherings of men and women involved in the Barnabas community), was pretty simple – expand your influence.  They said, and we think He said, expand your impact.  Increase the number of life-changing conversations with those in the midst of suffering.   But how?  What does that mean?
This year we are launching Vision 2020, a direction for Barnabas that we pray expands His influence with those in the middle of life's hardest times.  We want to leverage who we are and whom we have impacted.  We want to be creative, increasing not just the life-changing conversations that happen in the counseling room with licensed therapists, but those that happen at church, in your small group, and at Starbucks.  We want to "take Barnabas to the streets", not replacing counseling but complementing it.  We want to empower you, as Paul says in 2 Corinthians 1, to "comfort others with the comfort we have been given by God".
Over the next two months, we are going to share some of that vision with you.  We hope that it stirs you to jump in to the lives of others with the comfort He has given you.  And we hope we can continue to help make that happen.
Like Abraham, we know the direction we are headed.  Like Abraham, we believe that the Lord is the one calling us.  And like Abraham, we know that it will be a journey of faith… that might just make a big difference.  We hope you will become or continue to be part of our family as we take a trip toward something big.
To learn more about the Vision 2020 campaign please watch this brief video: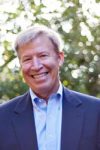 Palmer Trice is an ordained Presbyterian minister.  He is married to Lynne, has three children and has been in Charlotte since 1979. In his spare time, Palmer enjoys golf, tennis, walking and reading.