does jesus matter more than politics?
In my last post, I bemoaned my own irritability that flares so easily in this current cultural environment.  Even civil conversations now seem to have an edge.  Whether we are discussing masks or vaccines, politics or specific cultural issues of the day, the tone seems to be more adversarial than ever.  It's not just that I think I am right, but that I think you are stupid.  It's not just that I think you are ill-informed, I think you are being duped.  Surely no one with a brain could think that way!
Most of us have felt some percentage of those thoughts or feelings, and often with close friends, people in our small groups, or those we would typically play golf or have dinner with.
My suggestion last time was that Jesus just isn't big enough to us.  I wonder if our politics (for lack of a better word) has become a more significant marker of who we are, and even more importantly, who they are, and therefore more important than the fact that we worship the same Jesus.  More important than the fact that we are brothers and sisters in Christ.  More important than the fact that we will spend eternity in heaven together.  (If that's true, we hope that it's big enough to have some distance from one another! 😊)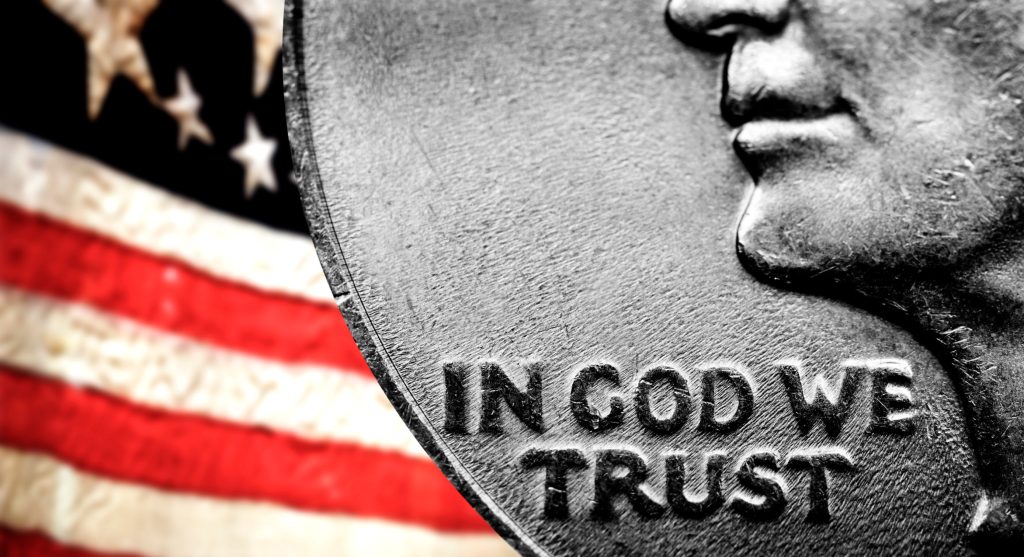 Do you find yourself having more in common with someone who shares your political beliefs (about politics or vaccines or masks) than with someone who worships the same Jesus you do?  If so, Jesus just isn't big enough.
So how do I get there?  How does He become bigger and my politics smaller?
In Ephesians 2:14-15, Paul says, "For he himself is our peace, who has made the two groups one (Jewish Christians and Gentile Christians, who really did not like or trust one another) and has destroyed the barrier, the dividing wall of hostility. . . His purpose was to create in himself one new humanity out of the two, thus making peace. . ."
Paul says that Jesus made Republican Christians and Democratic Christians one body.  He broke down the wall of hostility.  But I sure don't see that happening.  I see us doubting one another's faith because we have political differences.  I see us asserting that those on the other side are  evil.  I see us thinking of those who differ as being "other."
But Paul actually set up this section at the end of the second chapter with a very famous section before it.  He begins speaking to the Gentile Christians, but quickly expands from "you" to "we:"      "As for you, you were dead in your transgressions and sins, in which you used to live when you followed the ways of this world and of the ruler of the kingdom of the air, the spirit who is now at work in those who are disobedient."  (Eph. 2:1-2)
Remember, you guys, when you were really lost, when you were disobedient and defied God and obeyed the evil one who rules this world.  Remember, that was you!
But then he changes pronouns: "All of us lived among them at one time, gratifying the cravings of our flesh and following its desires and thoughts.  Like the rest, we were by nature deserving of wrath."  (Eph. 2:3)  You guys were lost, but so were we.  You guys were ignoring God and doing what you wanted…but so were we.  We were all in the same boat of "lostness."
And then Paul turns to the passage we all know!  "But because of His great love for us, God, who is rich in mercy, made us alive with Christ even when we were dead in transgressions – it is by grace you have been saved!"  (Eph. 2:4-5)  But God took lost people like me, like those people on the other political side, people lost in their transgressions and saved us!  What a Savior!
The route to less political division in the church is to remember who we are, where we were, and how He saved us.  The route to less political division is to share our wonder in a God who loved us enough to come for us, on whichever side of the aisle we find ourselves.  The route to being "one body" lies in seeing that loving sacrifice of His as being larger and far more compelling than the huge issues of today, issues that will disappear into irrelevance the clearer we see our Savior.
Now, the next time I find myself in one of those conversations, if I can only just believe it!
Palmer Trice is an ordained Presbyterian minister.  He is married to Lynne, has three children and has been in Charlotte since 1979. In his spare time, Palmer enjoys golf, tennis, walking and reading.