It is hard for me to really show up in mutual conversations. I am sure this is not uncommon, but given that I make a living asking questions and listening to intimate places in women's' hearts, this shocks me a little. My job interview five years ago at Barnabas was intimidating: two counselors whom I respected (and feared a little), met with me for several hours. I left the interview in a fog. I remember only one question: "How do you relate to your friends as different than your clients?"
I tried to offer something articulate, but the question exposed my hiding heart. I know how to ask questions to expose peoples' motives, hopes, fears and pain. I love walking women right to the point where they have to deal with their struggle with God, and I am honored to watch them honestly pour out what they really need to say to Him. But I resist letting others see this messy process in me.
Last week, I sat on a porch at dusk with a dear friend. For a few hours, we experienced the gift of a real encounter. We have both known joy and deep pain, and we both still wrestle with God in our stories. In our friendship, God has pried my fingers, clenched around my privacy, loose a little bit. I've shown her the 'messy', the 'not-yet-fixed.' I have made the choice to let her see who I am underneath my counselor curiosity and my spiritual words. On this particular night, we came together and shared heavy pieces, but we also laughed easily and deeply.
I've hidden much of my real self from people: my insecurity, my lack of having an answer. It feels safer to create a false sense of intimacy by managing the direction of the conversation or sharing a piece of gossip. But my managing leaves me alone, and more convinced to keep up my charade. It is not worth it anymore- the taste of friendship, of really receiving care, has become too enticing.
Sometimes the choice to let people see where you really are can be scary. When you willingly show up, so does your neediness. It's an unnerving, beautiful act of trust.  When we let another in – we stand on the hope of home, where the beauty of a good front porch conversation will not be so fleeting, and where we will see and know one another without veiled faces.
.
If this post has piqued your interest we're offering a seminar in October
called "Barnabas Training Basic" that may be of interest to you.
Simply click here for more information.
.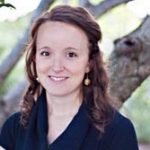 Meredith joined The Barnabas Center on staff in January 2009, upon completing her Masters in Counseling from Gordon-Conwell Theological Seminary and her Bachelors in Religion and Psychology from Furman University.  Meredith counsels, leads women's groups and teaches a seminar called "Hope in the Darkness" for those walking with individuals suffering from depression or bipolar disorder. Meredith, her husband Jon, and daughter Charlotte live in Fort Mill, SC.