This last week I found myself answering that familiar question this way: "Lynne, Kathryn, and I went home to Richmond for Thanksgiving."  We went home.
"Home" is an interesting word to use for a place that I lived almost a half century ago.  But it is where I grew up.  My three siblings, many of their kids and grandkids, and my mom all live there.  
I have lived in Charlotte for forty years, yet when I go to Richmond, it is so familiar.  I bump into old friends, feel old feelings, see familiar places…I go back.  Do you have a place like that?  A place that once was home for you or your extended family and yet isn't really "home" anymore?
Have you ever wondered what that journey was like from Nazareth to Bethlehem?   What did Mary and Joseph talk about?  Was there anyone with them?  Did they have any expectations about the trip or were they going anyplace familiar?
Here's a wild Christmas thought: How would it change the story if Mary and Joseph, when headed back to Judea for that Roman enrollment, were actually headed "home"?  They were taking a trip that they had taken many times before.  They had cousins and uncles and aunts and maybe grandparents in Judea.  That is why they were going to Bethlehem – because it was the old family homestead.  And they had probably stayed there whenever they headed down to worship at the Temple in Jerusalem.  After all, it was only 5-6 miles away.
So the conversation between pregnant Mom and expectant Dad may well have been about their last visit, or about the work Uncle Zach was doing on his home, or how their nieces were growing up.  That first Christmas may have had much more "family" than we know.  And it may have had much more of a sense of going "home." 
The chances are also good that everyone in the Nazareth clan of that family would have been on the road with Mary and Joseph.  They would have traveled to Jerusalem and to Bethlehem together because that is what families do on special occasions, always travel in groups.  As it was so much safer, both Mary's and Joseph's families would have headed back to the homestead together.
So it was no wonder that they ran out of room, since the whole family was back together.  Was there a potluck earlier in the evening before the shepherds came?  Did Mary go into labor during the big family dinner?  Were Mary and Joseph alone in that stable?  Probably not, as the women in one's family usually played the role of midwives.  After all, it was Joseph's first child.  He would have been terrified, probably out boiling water somewhere.
Christmas has always been about family to me.  I have celebrated that special day with those whom I love most.  It's fun for me that think that Mary and Joseph got to do that, too.
Enjoy those near and dear to you this season.  Celebrate it with them, not alone.  It multiplies the joy!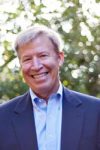 Palmer Trice is an ordained Presbyterian minister.  He is married to Lynne, has three children and has been in Charlotte since 1979. In his spare time, Palmer enjoys golf, tennis, walking and reading.