.
There is no one I love more.
There is no one who drives me as crazy.
There is no one I love more.
There is no one who drives me as crazy.
There is no one who thinks of me more.
There is no one whose love I take more for granted.
There is no one who sees me as clearly.
There is no one whose opinion matters as much.
There is no one whom I have hurt more.
There is no one who has forgiven me more.
Marriage is unlike anything else in my life.  In some ways, it is the most ordinary of relationships.  It is day in and day out, sharing the same world and the same people, struggling with the same issues and enjoying the same experiences.  I share more of life in common with Lynne than with anyone.
And because of that proximity, the differences are so heightened.  Whether it is how we handle time or money, how we make the bed or don't, whether we like sweet or salty, our sensitivity to noise and clutter, our level of awareness of the needs and pains of others… You get it; we are SOOOOOO different!
We are both image-bearers.  Neither gender is better.  Both are necessary to reflect God's image.  We both love God and want to be His.  We both have gifts and strengths and want to offer them to one another and together to the world.
But we are also both self-centered.  In our own ways, we struggle to manage life in ways so that we need God less.  And in His own ways, He continues to confound those ways for our own good. Often He uses our marriage for that very purpose.
I have spent 25 years teaching about, thinking about, and helping others find more in their marriages.  I have spent 36 years trying to figure it out for myself.  And I am still searching, figuring, pursuing… Winston Churchill once described Russia as "a riddle, wrapped in a mystery, inside an enigma."  I feel that way – about marriage, about Lynne and often about myself and how I act with her.
And that is why God gave me this gift of Lynne and of marriage.  It deepens my awareness of my need for Him.  It invites me to so much more.  She stirs my desire both to give and to receive.  She exposes my self-protection and self-centeredness.  She points me to my need for mercy and forgiveness, from God and from her.  She calls out the part of me that wants to love like God, unconditionally, other-centeredly, and sacrificially.
Marriage truly is the crucible of my sanctification.  It is the clearest and most compelling arena in which my relationship with Jesus plays out – for good and for bad.  It is the stage on which I get to see my heart "perform" and be exposed, sometimes in its glory, and often in its sinful failures.  And because of that, it is the context in which God becomes most real.
And for that I am deeply grateful.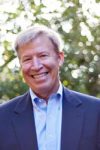 Palmer Trice is an ordained Presbyterian minister.  He is married to Lynne, has three children and has been in Charlotte since 1979. In his spare time, Palmer enjoys golf, tennis, walking and reading.