Some of us love to plan.  Some of us hate it.  Some of us love to dream and scheme about the future.  We love to "own our hopes" and take proactive steps in that direction.  Others of us find that planning is confining or limiting and prefer to keep our options open, to see what life might bring us. Can you guess which one I am by the way I described the two?
My wife Lynne told me years ago that I would rather plan the future than live in the present.  Of course…  Planning the future gives me a sense of control.  I get to "name" the promise it holds and even lay down some tracks that might take me there.  The future is always bigger and brighter than the present.  The ordinary everyday problems that are routine life do not find their way into my "plans".  Somehow, I think that if I plan well enough, improve myself or my skills, make the right choices… it will all work out in the end.  It will work out in the ways that I want it to work out.  Life will just be grand!
In the last several decades, I have planned a lot.  I have laid down tracks for success.  I have "planned the work and worked the plan."  This weekend is one of my prime planning seasons.  What will be my goals for 2016?  What is most important?  How will I get there?  Where does it fit in my calendar?
But this year I will plan a little differently.  My hopes aren't quite as big.  I really don't have the energy I used to have.  I have actually found that some of my big plans have had unintended consequences.  Sometimes I get so caught in the future that I miss the present.  I miss the people around me.  I miss my own relationship with God.  I miss out.
Sometimes I find my identity and my hope in what might be rather than what is, in fact, already true.  I have all I need today in my relationship with Jesus.  And much of what I long for in the future exists, albeit imperfectly, in my relationships here and now.
There is something in me that legitimately longs for a much better world.  It is a world where my own heart will be full, my relationships will be perfect, and I will clearly see and own my value and purpose and place in life.  And that day is coming, but not because of any planning on my part.  It is coming… He is coming back to restore this world to all it was originally intended to be and to restore my life and yours to what He first designed and intended.
Last week we celebrated the Incarnation.  We celebrated the birth of a Savior.  This Jesus was born to "set His people free…  From our fears and sins release us…  Let us find our rest in thee."   He came to bring the world that my planning wants to create.  And He is coming back one day to do just that! The world I long to plan for is one that only He can and will bring.
So, how do we reconcile all that with life planning? Or with New Year's resolutions or goals?
I don't think it does away with them.  I do believe God has called us to "present our bodies as a living and holy sacrifice" (Romans 12:1).  I do believe He wants us to live purposefully for Him.  I do believe He wants us to grow in our love for Him and for those around us.  I do want to pray more, to study, to be intentional, to have Him change my character in the ways that He needs to change.
But the pressure to deliver is off.  The future I want to create is already guaranteed.  He will restore relationships, solidify our purpose and calling, and bring abundant life.  We know how the story ends and it ends well for those of us who are trusting in Him.
I hope you do make some plans this new year.  I hope you envision what He might want from and for you this next 12 months.  I hope you dare to wonder how He might use you.  But I hope you feel the freedom that comes from knowing the end game.  Love wins.  Jesus wins.  And with Him, we do too.  The pressure is off on your planning.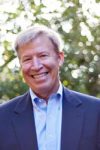 Palmer Trice is an ordained Presbyterian minister.  He is married to Lynne, has three children and has been in Charlotte since 1979. In his spare time, Palmer enjoys golf, tennis, walking and reading.