.
"Do not call me Naomi, call me Mara [bitter]; for the Almighty has dealt very bitterly with me.
I went away full and the Lord has brought me back empty. Why call me Naomi when He has
brought calamity upon me?"
Ruth 1:20-21
It must take a lot of pain to bring a woman whose name means "sweet and delightful" to throw such a precious piece of identity aside. Her pain must have been crushing, buckling her to the ground and pushing her to take on another identity all together. It must feel like you've been on this path that is marked by provision, where Yahweh's hand is easy to trace, and then silencing loss steals it all. No longer can you call yourself "delightful" to anyone. Within the span of a few years, Naomi had lost her home, her community, the strength of a husband, and the promise of her two boys. No longer could she trace God's hand for her. No, in her eyes, she was now on another path entirely. She'd need to figure out how to make it. Her Ruth and Orpah walked alongside her as two pillars on whom she could have steadied herself, and she tried not to need that kind of strength again.
I am so drawn to this woman. I love her for her honesty, for the strength it takes to stand and keep going, bitter for a good while.  In four short chapters, her story is offered, and it captures me. What begins as family togetherness in struggle moves to a shattering of hope.  After all of this death, she goes back home to Bethlehem, "the house of bread," seeing herself as completely empty. I love that through her story, Yahweh tells me that my faith in His provision is not nearly as important as His faithfulness to bring it.  That my seasons of stumbling and groping in the dark, when I cannot any longer trace Him in a way that makes sense, are seasons of Him quietly sustaining, providing what will bring me through down to the tiniest detail.  My faith is not as important as His faithfulness.
Her God tenderly and sensitively provides a way of redemption through each stitch of putting her life back together. There's the arrival to Bethlehem "at the beginning of the barley harvest," which Naomi knew would mean that she and Ruth had a way to eat and make a living. There's the positioning of Ruth in the field of Naomi's in-laws, where Boaz just happens to be. Boaz is one of only two men who could cover Ruth's widowhood and bring back a family from dust. He finds favor in Ruth and provides an honorable and safe way for her to avoid the normal shaming that took place amongst gleaners. There's Ruth herself, tenacious in her love for Naomi and courageous enough to invite Boaz to care for Naomi and for her.
As readers, we do not know about Naomi's emotional journey along the subtle, yet real path of being restored. But "bitter" does not go away overnight. Confusion and feeling abandoned by God under a weight of pain can last day after day. Yet, in our perceived abandonment, He is on the move. As the curtain drops at the end of the book of Ruth, Naomi is no longer empty. She has a full lap, a new boy to nurture and raise. It isn't her two beloved boys. But it is Boaz, Ruth and Obed. As I picture her nurturing a new baby and resting in the faithfulness of her daughter-in-law, I see light and color returning to her face. I see softness, and Naomi "sweetness" filling in the jagged bitter edges.
Isaiah writes to the people in Isaiah 49:14-25 a message of hope. "Zion said 'The Lord has forsaken me. He has forgotten me.' Yet, can a woman forget her nursing child, that she should have no compassion on the son of her womb? Even these may forget, but I will not forget you. Behold, I have engraved you on the palms of My hands. Ever before me are your ruins. The builders of your wall make haste to repair." Where He empties, He fills – never in the way we expect, but more than enough. He fills as you call yourself "bitter," "forsaken," and "torn down." He fills anyway. He fills the most barren, bitter hearts, because to Him, the hearts of His children are always "sweet and delightful."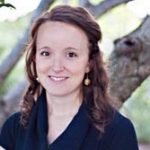 Meredith joined The Barnabas Center staff in January 2009, upon completing her Masters in Counseling from Gordon-Conwell Theological Seminary and her Bachelors in Religion and Psychology from Furman University.  She counsels, leads women's groups and teaches a seminar called "Hope in the Darkness" for those walking with individuals suffering from depression or bipolar disorder. Meredith, her husband Jon, and daughter Charlotte live in Fort Mill, SC.