Old struggles, new mercies
On the heels of Jesus' birthday party comes a time where we raise and clink our glasses to celebrate the start of a new year.  Both the Advent season and the New Year have this ability to sprinkle hope in our midst.  And yet, inevitably, there are smears of disappointment or a sticky residue of profound heartache that competes with that hope.  We are living in an "already but not yet," world, bearing the tension of the joy of our salvation right next to the still existent brokenness.  This tension was there last year and the year before, but the start of a new year can taunt us into thinking it will be different this year.  There is certainly nothing wrong with that, but it's ironic that we often try to escape the brokenness with our own resolutions right after we celebrate that Jesus has escaped it for us.
It's been a while since I've watched the movie Groundhog Day, but I remember enough of the premise to know that Bill Murray's character lives the same day over and over again, down to the number of times he hits the "snooze" button on his alarm clock.  I feel like that is my life lately, as in not a lot changes other than what the weather is doing outside (This is not meant to sound "whhamp, whhamp"; I know the Lord has grown me and a lot has changed, but a few of my unfulfilled hopes remain the same).  I always hope that the hard relationships of the last year won't be hard in the next year or that I could be more intentional with people or that I cooked more.  It's not just the same goals, but even the same desires like the desire to get married, budget better, travel more, save more, read more, etc.  Every year I notice that the same things appear on my list of resolutions, and I'm noticing that these old goals serve as the smoke signal from the blazing fire of my old struggles.  For the past ten years, I've hoped to run a half marathon, but I struggle because I don't have self-control when it comes to all things sugar, or the self-discipline when it comes to keeping a regimen.  Sometimes, the only motivation I have on a run is to run when cars are going by, and I run at a park where half of it is just a trail through the woods and around the pond…You might be able to guess that I have never run a half-marathon.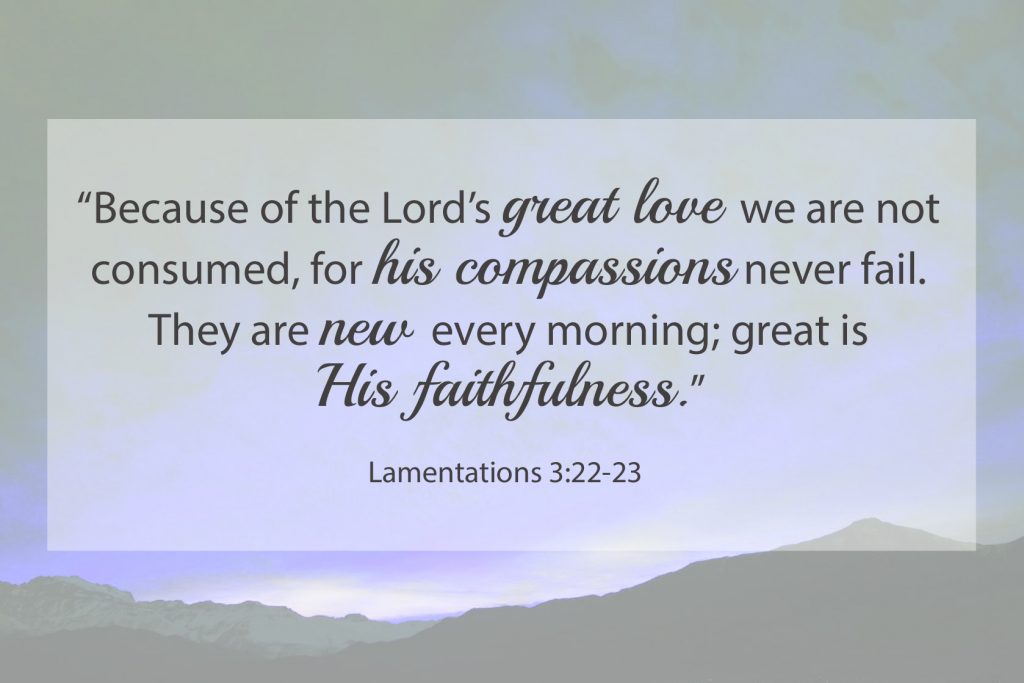 I can dismiss both my desire and my "failure," in ways that just make light of it all, or internally, I can wallow around in shame.  Neither is helpful for me but both tend to be my proclivities as I gorge at the table of contempt.  This is where I can celebrate His new mercy lately, as He has given me eyes to see my contempt and condemning posture toward my struggles.  He's given me a community that reminds me that my response to my struggles is just as significant as the struggle itself.   Change more readily comes when we meditate on Lamentations 3:22-23: "Because of the Lord's great love we are not consumed, for his compassions never fail.  They are new every morning; great is His faithfulness," as well as Romans 2:4 "God's kindness was meant to lead us to repentance."
My struggles, failures, limitations, and sin frustrate me, but I also see how they point me to my need for Him, which is a mercy in and of itself.  So, more than anything this year, I hope to feast at a banquet of belief, eating and drinking in His new mercies for my old struggles.
Mollie Johnston is a Counselor for The Barnabas Center.  She has her Bachelor of Arts from the University of Tennessee where she majored in Spanish as well as her Master of Arts in Christian Counseling from Gordon-Conwell Theological Seminary.  She is especially passionate about helping individuals who are working through grief, doubts, trauma, relationships, anxiety, depression, self-esteem/identity issues, seasons of loneliness, family of origin issues, and divorce.
Save
Save
Save
Save
Save