As a writer with zero formal training, I never know quite what to expect in the creative process when I sit down to share thoughts and words. Some days, my words hit dull, and feel more pithy than relevant. There are others where I feel afraid of what I write; 'what will readers think of me', and also, 'am I willing to do what I ask readers to do?' And there are days when I sit down and words come easily, flow together, and paint a picture. On these days, writing is fun. My thoughts flow uninhibited because I am so convinced these things need to be said, that the picture needs to be painted.
I've felt I needed to write for as long as I can remember. When I was nine, I believed I was Jo March in Little Women. Many afternoons (the ones where I wasn't rollerblading and listening to Amy Grant's scandalous and amazing crossover into pop), I'd spread out a blanket in my front yard, and bring out loads of blank sheets, and try to will myself to write something creative. Something Jo, and Amy, would be proud of. Even then, words held me, contained and grounded me.
Sharing words is a gift I have, but it is one I'm tempted to use wrongly to build cases, secure respect, and protect myself. I remember several years ago, I heard beloved wordsmith Beth Moore tell a story about her life with young children, back in the early days of her traveling and teaching. She said that she came home, tired and spent, to two little girls with happy faces, both in jammies. One of them was holding a baggie, and handed it to Beth. "Look mama, I saved this for you!" Beth said she looked and saw a yucky mess, felt a little squeamish, and asked her daughter what in the world the bag held.  "It's my scab! I fell on my bike while you were gone, and then it bled everywhere, and then this fell off, and I saved it to give you!" With that, her daughter hopped away, happily going to play in her room, while Beth looked on in mixed horror and wonder.  She realized days later that she rarely felt as free to give over her wounds to the Father. She rarely felt as lighthearted as her daughter to run off skipping after handing over wounds. She rarely felt as trusting to know the Father wanted her pain, as her daughter had in saving the scab so her mama could hold it. I get that.
Just this past week, I was in a skirmish with the Father over the story in which I find myself.  I was in a space I often go to: convinced the stories around me need to be written a certain way, confident that I need to be the one writing them. I gripped the pen with white knuckles. I switched between feverishly scribbling out what I want my story to be right now, and shaking the pen in His general direction.  I took my words to Him, like any good Xennial evangelical, but I refused to let go of the pen.  Instead, I hunkered down over my gaping wound, and accused Him of not knowing me. I accused Him of authoring my story callously.  I accused, and then walked away, pen still in hand, and feverishly wrote my will onto the day.  I didn't actually give anything over except a string of accusations that I justified as honest prayer. I didn't wait after hurling my words.  And I certainly didn't skip happily off in playfulness.
Several days in, I was stopped by the gentle face of a friend, who reminded me that sometimes I like to see and hear my own words instead of waiting on His.  Because when we are skeptical of His loving involvement, of course we turn to our own self-protection.  And for me, that's crafting a case of words, and writing my own will. My friend wisely stopped me, and in their countenance, I saw love, proven over and over.  As I took in the kindness, and hoped it might mean something about God's kindness for me, I dropped the pen onto the floor, letting it clang and roll to a stop. Tears came. I remembered I am known. I remembered that not one detail in the book of my life was written with callous intent, but with full intention and deep care.  And that meant I could let go.
I could stop reminding God of where I am on the path, how I dislike this ill-fitting chapter, and the way it pulls and asks of me.  I could stop demanding He relieve it in specific ways, stop threatening to pen my own will if He didn't lead.  I could hand Him my saved-up wounds, asking for grace to trust He has already known every inch of them. I could walk with a light heart, let Him hold the pen for a while, and maybe just go sit in the front yard with no paper, and listen to Amy's Greatest Hits for the afternoon.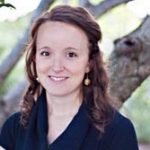 Meredith joined The Barnabas Center staff in January 2009, upon completing her Masters in Counseling from Gordon-Conwell Theological Seminary and her Bachelors in Religion and Psychology from Furman University.  She counsels, leads women's groups and teaches a seminar called "Hope in the Darkness" for those walking with individuals suffering from depression or bipolar disorder.