No matter how many times I read Chesterton's poem, I never expect that last line, 'Why am I allowed two?'  The line startles me, rouses me awake. I rub my eyes. Yes, I wonder – why am I allowed another day?
The question helps me to focus, to really see this 'great world round me.' It helps me rediscover my, 'eyes, ears, hands.' The line shakes me into astonishment. All these gifts? All this mine?
The line brings other questions, 'Who allowed me into this world?' 'What fun might I have with the gift of being here?' 'How do I respond to the beauty?'  'All this given to me – really?'
These are not my usual questions. These questions are big, open and grateful. My normal questions are small, closed and cynical: 'Why is it so damp?' 'Is all the juice gone again?' 'How come I can't find my socks?'
I lost the big questions somewhere: 'You mean, I get to taste the apple?' 'You mean, I can pick my attitude today?' 'You mean, I have a choice about which ideas I want to wonder about today?'
Do you actually mean, God, that you gave me today? Another one? Do you actually mean God, that this is my life to do something with? Am I actually alive?
So much to wonder about. So much to marvel. If you wake up open and think big, grateful thoughts.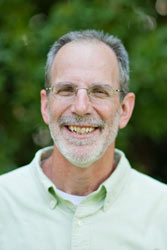 Roger Edwards joined The Barnabas Center in 1991. He works with both with individuals and couples, helping people confess their need and embrace their available choices to lead healthier lives. Roger also teaches and leads discussion groups and retreats applying the Gospel to everyday life. He is a licensed professional counselor (LPC), holds a master's degree in biblical counseling from Grace Theological Seminary in Indiana and earned a bachelor's degree in engineering from the University of North Carolina at Charlotte. He is married to Jean and they have seven children and nine grandchildren.