"You are loved by God."
I am staring at that sentence.  It's the prompt they gave me for this blog.  And I don't know what to say.
I know the sentence is true.  Or I believe it's true.  But when I am honest, it isn't something I often feel.
God and I spend pretty regular time together.  I read His Word.  I talk through my heart and the things I am doing with Him.  I confess my sinful independence and I petition often for friends.  I try to join Him in what I think His work is about in my day to day world.  I believe He is moving through life's circumstances, orchestrating some and using all to draw men and women to Himself.  God is central to how I see and live my life.  I wouldn't be doing what I am doing at the Barnabas Center, if that weren't true.
But do I feel loved by God?  Is it a daily or hourly or minute by minute experience in my life?  I wish it were more so.
Years ago, I read the book Practicing His Presence by Brother Lawrence.  I was challenged to live with more of a moment by moment awareness that God is present with me.  I was challenged to see Him in the small details, in the mundane moments, in the inconsequential conversations, as well as the more meaningful ones.  I have thought about setting some kind of hourly or even more frequent alarm on my watch to remind me to practice His presence.  I do go through seasons where I am more frequently conscious of His presence.  And then those seasons cease.  I don't know why.
It is actually easier for me to feel loved by my wife Lynne, or my kids, or my friends.  The physical touch or proximity, the louder words, the more indisputable presence makes their love easier to grasp.
But every so often, a truth that I know every day somehow overwhelms my heart.  Every so often, sometimes in worship, sometimes in a sermon, sometimes in my quiet time, sometimes on a walk on a beautiful day – every so often, the truth of Jesus' ultimate sacrifice for me becomes so real…
Several years ago I heard a sermon that has haunted me since.  In the sermon on prayer, the pastor concluded with the question "what do I do when it feels like God isn't answering the cries of my heart?"  And he painted a picture that God brings to life for me every so often…
Imagine that you are peering over that garden wall into Gethsemane during that Passover celebration so many years ago.  Inside the Garden you see Jesus, on His knees, talking with His Father.  You hear the painful longing ache in His voice as He pleads … "if there is any other way…"  I feel the weight of my sin being put on His body as the soldiers enter the Garden.  "if there is any other way…"  There was no audible response – and that was the answer.
So Jesus got up and went to the Cross for me.  That is my experience of the love of God.  Jesus got up and went to the Cross for me.  He wanted me to be able to come home with Him.  He wanted me to know the freedom from sin that could come only with His sacrifice and resurrection.  He wanted me to know that this God who is so big that I can't see or get my hands around Him, who created all that I see and keeps it going – that this God would give up His only begotten Son, on purpose, for me.  For what reason?  For love.  Nothing else.  For love.
Now I feel it.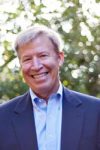 Palmer Trice is an ordained Presbyterian minister.  He is married to Lynne, has three children and has been in Charlotte since 1979. In his spare time, Palmer enjoys golf, tennis, walking and reading.