Fear not, for I am with you;
Be not dismayed, for I am your God.
I will strengthen you,
Yes, I will help you,
I will uphold you with my righteous right hand.
Isaiah 41:10
My inbox piles up. This bothers me. New email arrives and pushes the older emails down until they disappear below the screen horizon. But I know they are there, all those unanswered, unresolved, undecided emails. I don't want to look.
Of course, the more I avoid looking the worse it gets. Lines and lines of emails form sedimentary layers of my indecision history. There are bills, soon to be past due, trial subscriptions about to turn into auto-drafts, and requests for church nursery volunteers.  Each one demands a decision. 
I see the email when it arrives. I might open it. But I hesitate, I don't decide. What if I make a mistake? Overcommit? Disappoint someone? Oh my, I should think about it. Yes, I should wait til tomorrow.
But the next day, there are eleven new emails. Eleven! Where do they come from? Four of them are new questions. Three are asking clarification of my previous vague replies. Two are subscriptions that I should unsubscribe. More on top of all those I didn't answer yesterday, squeezing them under screen. More pressure. More decisions. More potential mistakes. I am afraid.
That's it! I'm afraid of making a decision. That's the reason the emails pile up. Every email requires a decision: answer it, file it, or delete it. What to do? I feel overwhelmed. Confused. Stressed. Angry. But at the root, it is fear. I fear I will make a wrong decision or I won't be able to handle the consequences. So I don't decide, which is, again, the worst decision.
Eventually, I must face them. Someone gets impatient and sends a follow-up email, "Perhaps you didn't get the first email I sent , but…" and I feel guilty. Or out of exasperation, I fire off all kinds of responses. Or I get hit with the auto-subscription fee. Or a deadline arrives. Then, I make decisions. But guilt, frustration and pressure are terrible states from which to make decisions. Indecision backs me into a corner and then I make emotional decisions. This all cycles into the next round. Where will it end?
Well, the obvious answer is to make proactive decisions. Make early decisions and the list of email diminishes. You make the choices and then you handle the consequences. You do this every day and the list becomes more manageable. That is what adults do.
That answer is rational. But my fear is irrational and doesn't submit easily. Another step is required if I am going to dive into those sedimentary layers of fear. The antidote to fear isn't rationality, the antidote is faith.
Life is like an inbox. Every morning, it comes at you with notification dings. Every morning, life asks for a response. Choices stack up on your screen. Some are easy; some are hard.  Reply? File? Delete? Each decision has consequences. This is scary, but also inspirational. Your decisions have consequences because your life is consequential. You cannot escape God's compliment of responsibility.
Some decisions will result in good outcomes and some not so good.
But the outcome of "no decision" is always negative. Indecision results in pressure, stress, and dread. When you are forced to decide, you will be rushed and afraid. You will feel reactionary, because you are.
But a proactive life is possible if you aren't fear-based. You have to trust God with your life. It goes something like this:  My father loves me. He has granted me the gift of a life. He has named me consequential. Because I mean something to Him, my life has meaning. On this sure basis, I will risk living, I will  risk decision.
Proactive decisions don't always produce the desired outcome. But they do produce the desired person. Set free of fear, you become the kind of person who can face your failures or embrace your successes. You become free to repent or rejoice. You are free to grow.
So this year… I'm going to trust that God's love endows me consequential.
Good morning, inbox.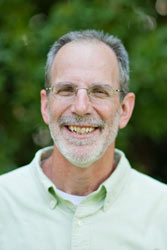 Roger Edwards joined The Barnabas Center in 1991. He works with both individuals and couples, helping people confess their need and embrace their available choices to lead healthier lives. Roger also teaches and leads discussion groups and retreats applying the Gospel to everyday life. He is a licensed clinical mental health counselor (LCMHC), holds a master's degree in biblical counseling from Grace Theological Seminary in Indiana and a bachelor's degree in engineering from the University of North Carolina at Charlotte. He is married to Jean; they have seven children and nine grandchildren.