redemptive consequences of suffering
I want to be a prosperity gospel kind of guy.  You know what I mean?  I want to believe in a gospel that produces prosperity for me as long as I am obedient.  I like the idea that my efforts can control my circumstances.  I used to like the idea that I would be blessed based on my level of righteousness (until I began to see a heart that was darker than I could have imagined!).
And I also want to be the one that determines what prosperity is.  From financial success to health to relationships to my basketball team winning, I would really like to control my own circumstantial destiny.
But in His kindness, God has not set up the world that way.  The world is broken.  I am broken.  And in spite of my best efforts, it cannot be controlled.  Sometimes because of unforeseen and uncontrollable circumstances, and sometimes because I have "screwed up," the world begins to close in on me.  Life stops working well.  Pain or sadness increases.  Life becomes much more difficult.  It seems unfair and I simply want relief.  I want to escape my circumstances.  I want my own version of "prosperity" to return.
James writes, "Consider it pure joy, my brothers, whenever you face trials of many kinds, because you know that the testing of your faith develops perseverance.  Perseverance must finish its work so that you may be mature and complete, not lacking anything." (1:2-4)
Consider it pure joy?  Seriously!?  That seems a little much to me.  So trials come upon me.  Life gets really hard.  And I resolve/determine to see this through a lens of joy?  The Greek word means "to deem as, to reckon as."  It is an imperative—a command—though it implies some sense of choice.
But I don't feel a choice when suffering occurs.  I respond instinctively and usually poorly.  Whether I feel anger or regret or despair, I don't experience it as a choice.  I am not even sure I know how to make that choice.  But James suggests it is possible.  And he even gives a reason for the choice: Because you know that the testing of your faith develops perseverance.
So "testing" produces character change.  The word here may refer to outward trials, but can also refer to inward temptations.  The word "perseverance" can also be translated "perfection," referring to an end accomplished as the result of a process.  So James says that I should choose to be joyful because the trials I face are making a change inside of me.
Hmm….  As I pondered that last sentence, I realized that my own character development is really not a major focus of the life that I long for.  Becoming a different, more loving man would be nice, but it rarely is a focus and actually not much cause for joy when it happens.
Hmm…. I wonder if I value what God values?  I wonder if He really wants me to be more like Him more than He wants me to have a prosperous life?
Hmm….
As I reflect on my life, I can honestly say I don't like the times of struggle, the trials.  But I can also say that those are the times when I have most needed and leaned into Him.  I can also say that those are times when He has changed me.  Those are the times when I have seen my selfishness, found more patience, or depended more on Him for life, for hope, and for change.
What about you?  What has marked the seasons when you have grown the most?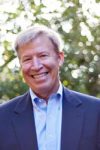 Palmer Trice is an ordained Presbyterian minister.  He is married to Lynne, has three children and has been in Charlotte since 1979. In his spare time, Palmer enjoys golf, tennis, walking and reading.