"6Is this not the fast that I choose: to loosen the bonds of wickedness, to undo the straps of the yoke, to let the oppressed go free? 7Is it not to share your bread with the hungry, and bring the homeless poor into your house; when you see the naked, to cover him, and not hide yourself from your own flesh…12You will be called the repairer of the breach, the restorer of streets in which to dwell."
Isaiah 58: 6-7; 12
"5He who was seated on the throne said, 'Behold, I am making all things new.'"
Revelation 21:5
The prophet Isaiah, in his 58th chapter, paints a rich and vivid picture of a full life lived in the emptiest of places. He holds hope for the redemption of shadowed lives, and an accompanying ache that stayed with him his entire life.  I love Isaiah's imagery of topography and place. Clients often laugh with me as I fumble through the use of metaphor in sessions. It is supposed to be an art form that comes naturally to counselors. I somehow missed the metaphor class in graduate school. Yet, Isaiah's metaphors of ruined and devastated cities help me navigate the contours of ruined and devastated hearts- my clients' and my own.
I am so glad the Spirit moved Isaiah to paint a picture of a tangibly merciful Messiah.  Often my theology is based on one assumption: Jesus came, lived, died and rose to rescue me from an eternity without Him. His entry into this world guarantees that one day this jagged storyline will make sense, one day Isaiah and I will no longer ache, and one day I will be home. In this, I have placed very little actual hope in Jesus' life and death meaning that He will break in to this world, now, to restore real and shattered things and make things new. I don't bank on Him redeeming the things of this world, even as I have deep hope that all will be well in the new world.
So much around me feels not well; there are bonds of evil oppression, inexplicable hunger and poverty, demolished streets and hearts, unrepaired breaches of relationship.  What I know to be true is that He did not hide Himself from His own flesh. He entered into a fast of the most depriving kind, left the mirth of heaven behind and entered our shadows. His willing fast from the uninterrupted presence of His Father means that I never have to experience the interruption of His Spirit's presence. There will never be an interruption in Jesus' interceding for me, nor in the Father's involved gaze on me. This does not mean that I feel His presence acutely in every moment of heartbreak or hunger. It does not mean I get answers for the power He allows evil to have here.
No, Jesus' quiet, foolish-looking entry means that I am no fool for expecting good here in these shadowed places. You are no fool for searching for the tiny, yet very real ways He is making things new here. This earth, our bodies, our physical relationships are worth everything to Him. They matter the same today to Him as they mattered the day He was born and the day He died. He is a strong Rescuer, involved enough to come for us, and to stay with us now. His presence is strong enough to loosen the yoke of oppression. Sometimes He does, and sometimes He does not. In either story, His redemption is strong, dependable, and true. He entered in, and He enters in- He does not hide Himself from His own flesh. He faces the darkness and disarms it. He is our tangibly merciful Messiah, and His presence can be seen and known. He came for you, a strong redeemer taking on fragile flesh. He is still coming for you, able to redeem.
.
.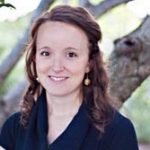 Meredith joined The Barnabas Center staff in January 2009, upon completing her Masters in Counseling from Gordon-Conwell Theological Seminary and her Bachelors in Religion and Psychology from Furman University.  She counsels, leads women's groups and teaches a seminar called "Hope in the Darkness" for those walking with individuals suffering from depression or bipolar disorder. Meredith, her husband Jon, and daughter Charlotte live in Fort Mill, SC.